"We have done an immense amount of work to green the mountains. The next task is to find more ways to make an eco-friendly living." On a warm winter day, an inspiring CPC-themed event was held in the courtyard of the village Party branch secretary Xia Yingshu in Duoyiping Village, Xichou County, Yunnan Province. Xie Chengfen, a delegate to the 20th CPC National Congress and a tour guide at the Xichou County Stony Desertification Museum, sat with Party members and public representatives to explain the guiding principles of the 20th Party Congress.
"The great achievements of the new era have come from the collective dedication and hard work of our Party and our people," declared President Xi Jinping in a powerful statement that struck a chord with the people of Xichou. Xichou County, located in Wenshan Zhuang and Miao Autonomous Prefecture, Yunnan Province, used to be one of the areas most severely affected by stony desertification in China, with 99.9 percent of its jurisdiction being considered mountainous and 75.4 percent of its land classed as desertified. As an old folk song goes, "The rocks on the mountains are many; we must climb them as soon as we step out of our homes. The rocks are all around us, but not a crumb of soil can be seen. Corn is planted in the crevices; a large swath sown in spring reaps a pitiful harvest in fall." These lyrics perfectly express the plight of the people of Xichou, who struggled to live off the stony terrain.
However, over the past 30 years, and especially since the 18th CPC National Congress in 2012, the people of Xichou, in the spirit of "not waiting around for others' help but working hard to create hope," have strived to combat desertification and fight poverty. By chiseling digging, and hammering with their own hands, they have developed a six-pronged approach to comprehensively combat desertification, which includes planting forests on mountaintops, cultivating green belts on mountain slopes, building terraces on foothills to anchor the soil, greening flat land, building water cellars, methane-generating pits, and straw ammoniation tanks to meet residents' water, energy, and fodder needs, and relocating villages from inhospitable areas. Through this approach, the people of Xichou have found a green development path for tackling desertification. In the first decade of the new era from 2012 to 2022, 20,000 hectares of wasteland and infertile farmland have been afforested; about 15,333 hectares of mountains have been closed to facilitate afforestation, and forests now cover 100,667 hectares of land, with the forest coverage rate reaching almost 55%. Also 423 square kilometers of karst terrain and 247 square kilometers of desertified land have been brought under management. Thus, the county has achieved a chrysalis-like transformation from a stony desert to a karst oasis. In 2021, the Ministry of Ecology and Environment designated Xichou County as a practical innovation base for applying the philosophy that lucid waters and lush mountains are invaluable assets.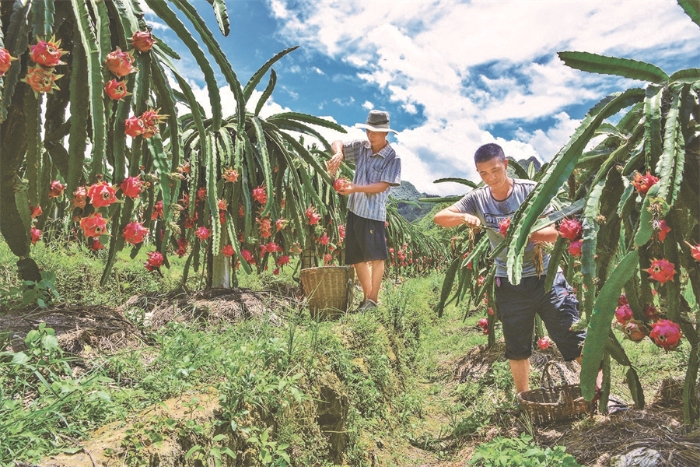 The residents of Nama Village in Xichou County welcome the dragon fruit harvest season in September 2022. PHOTO BY LU DEREN
If we fulfill our responsibility to the environment, the environment will surely not let us down. During his tour of Yunnan Province in January 2020, President Xi stressed that if we prioritize and promote green development, work with unswerving commitment, and make sustained efforts, we can undoubtedly turn lucid waters and lush mountains into invaluable assets. For Xie Chengfen, a former team leader in Haiziba Village, these words have an especially deep meaning and resonance. "We are witnesses of and participants in the process of turning barren mountains green. In the future, we must continue to work with the determination to never give up and implement the requirements from the report to the 20th CPC National Congress on promoting green development and harmony between humanity and nature. While striving to make our area greener and protect the vegetation, we should also tap potential economic returns to benefit the people."
In Sanguang, the area most seriously affected by stony desertification, green ecology and eco-friendly industries have helped beautify the rocky terrain. The dense orchards of kiwi trees with lush foliage and the neat stone terraces that unfurl like silken threads make it difficult to recognize this place as the barren terrain depicted in old photographs. Sanguang Village was once a place where each and every tree had been felled, the water and soil had been drained away, and the young people had all departed. Today, the village has achieved magnificent results in poverty alleviation, looks splendid, and has a bright future ahead.
Nowadays, the terraced fields and stone embankments at village are major features of the county's landscape. It is said that these stone walls are long enough to circle the globe at the equator. Since the 18th CPC National Congress, Xichou County has vigorously carried out terracing and land-consolidation projects on sloping hills and rocky areas with the right conditions. It has created vegetation-covered ridges, irrigation ditches, sand banks, and other facilities, built platforms to protect soil, water resources, and fertilizer, and effectively curbed desertification to ensure a steady increase in the area of basic arable land. A total of 16,267 hectares of low- and medium-yield fields and other lands have been transformed into high-yield land and consolidated. 7,427 hectares of new and improved irrigation areas have been constructed, and 17,333 hectares of farmland are now protected. These efforts have successfully ensured that farmers are able to produce enough food. In 2018, Xichou became the first county to eliminate poverty in Wenshan Prefecture.
Thriving industries are a prerequisite for solving all problems in rural areas. In recent years, Xichou County has attracted professional companies to the area to develop a comprehensive high-altitude cultivation base for specialty fruit covering more than 333 hectares, with organic kiwifruit as the main crop. "Although it is costly to cultivate agricultural products in desertified areas, it helps local people increase their income and achieve prosperity. The kiwifruit we grow here is organic and of high quality, so it demands a higher price," said Chen Denggui, who is in charge of the cultivation base. In the Sanguang area, 358 households earn an annual income of more than 4 million yuan by renting out land. About 100 residents work at the cultivation base every day, earning an annual income of more than 4 million yuan from labor. More than 3,000 households in 14 villages across the county have also taken shares in the company and receive a fixed dividend. The once stony slopes of Xichou have thus become small gold mines for the local people.
A slogan on the wall of the offices of the village committee at Jianglong, Xichou County reads: "If we do not plant trees on the mountains, our drinking water will drain away; if we do not create terraces on the slopes, we will lose our crops. If we cultivate mountains of green, we will have riches to leave future generations." These words capture the secret to the success of Jianglong villagers in escaping poverty and achieving prosperity. They also simply express the philosophy of green development in stony desert areas. "This is another bumper year. The income from citrus alone is more than 6 million yuan for the village," said Liu Chaoren, a senior Party member in Jianglong, with a look of joy on his face. After retiring as a teacher, Liu led Jianglong residents in developing citrus cultivation based on local conditions as part of the one village, one specialty product initiative. Its success has eliminated any need for Jianglong to receive poverty relief. Now, efforts are being made to transform and upgrade the village's living environment and appearance in accordance with the requirements of a three-year action plan for the greening and beautification of urban and rural areas in Yunnan Province.
By promoting the conservation of its green mountains, Xichou is creating a bright future. A story of how beautiful scenery can create great prospects is currently unfolding in this small border county.
(Originally appeared in Qiushi Journal, Chinese edition, No. 23-24, 2022)
Source: English Edition of Qiushi Journal, 2023 No.1