For more than 20 years, Wang Chuanxi, secretary of the Daicun Village CPC committee, has been striving to lead all residents of his village toward common prosperity. In going from a notoriously backward village to a model of rural revitalization, Daicun, located in Shandong's old revolutionary base of the Yimeng Mountains, has completed a tremendous transformation. The story of Daicun has even made it to the big screen, with Wang Chuanxi as the main protagonist. When he took office, Wang faced collective debts of nearly 4 million yuan, 126 court summonses, and a lot of tension in the village. Today, the village's collective industries are valued at 3.8 billion yuan, and the annual per capita net income of the residents is over 70,000 yuan. Darkly tanned and well-built, Wang has been honored as a "forerunner for rural revitalization."
"This year, our village is constructing four more buildings, which will be allocated to those born in the years between 2000 and 2003," said Wang Chuanxi, pointing to the newly roofed residential buildings as we arrived at a construction site on November 25, 2022. For years, the village has been providing housing for residents at a rate of 500 yuan per square meter, a tenth of the market price.
We toured the village on foot, moving from east to west along Xingfu Road, a tree-lined street with rows of two-story buildings. The villagers have a kindergarten, primary school, and community hospital at their doorstep, and the village has also built a residential block to provide free housing to elderly people. In addition to free accommodation, elderly residents receive a special monthly payment that increases with age. The village also offers residents free coverage under the rural cooperative medical and old-age insurance schemes. Students taking further studies after the nine-year compulsory education receive a stipend of 4,000 yuan per year, and those who enter university are awarded scholarships ranging from 10,000 to 50,000 yuan.
Villagers are able to enjoy these excellent benefits as a result of the development of Daicun's collective industries. Since 1999, Wang Chuanxi, as head of the Daicun Village Party organization, has led villagers in opening a commerce center, establishing an agricultural park, developing intensive agricultural product processing, and providing training for new farmers. As a result, projects for rural revitalization have flourished.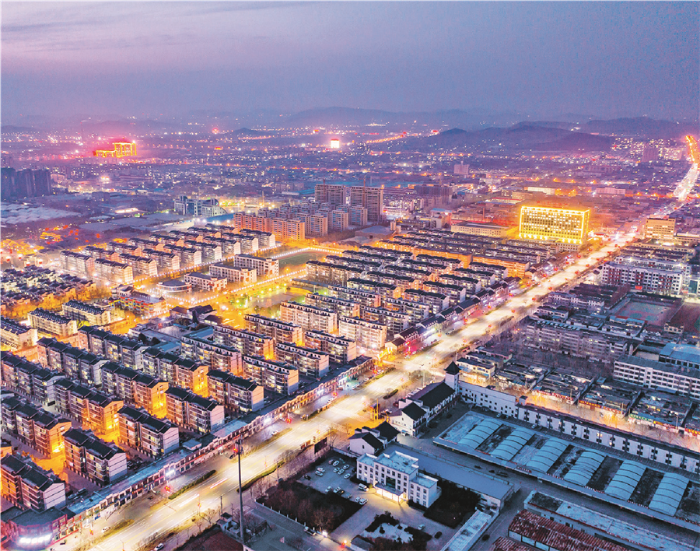 An aerial shot of Daicun Village at night. PUBLICITY DEPARTMENT OF THE CPC LANLING COUNTY COMMITTEE
On March 8, 2018, President Xi Jinping praised Daicun Village when he attended a deliberation of the Shandong delegation at the First Session of the 13th National People's Congress. After receiving the care and encouragement of the president, Wang resolutely decided to "cherish the honor and start afresh." In starting afresh, he set the goal of leading even more villages to realize common prosperity. "There are many ways we can help surrounding villages, such as projects and funding. In doing so, we can share our successful experience and inspire others to quickly realize prosperity and board the express train of rural revitalization." Wang proposed a plan to lead Daicun Village in creating a collective rural revitalization community in conjunction with 11 surrounding villages, which would see more than 26,000 rural residents realizing common prosperity together. From this proposal, the New Rural City project was born. Wang has thus become the leader of an even larger flock embarking on a new journey.
To have a good Party branch is much more effective than just distributing money and materials. Daicun's development illustrates the importance of a strong primary-level Party organization for rural revitalization. When planning for the New Rural City project began, Wang took the lead in setting up a joint Party committee for the 12 villages involved. Based on local conditions, the joint Party committee mobilized unused resources in each village, formulated tailored policies to guide the development of each place, and promoted basic and supporting facilities and industries in an integrated manner.
"It would be great if our village could be like Daicun." This was the thought that came to Yuan Lei, secretary of the Party branch of Shaimichengqian Village, which sits opposite Daicun, every time he visited the village there. The New Rural City initiative has given Yuan Lei the opportunity to "copy" Daicun's success. Based on unified planning, each village has actively pursued differentiated development paths according to actual conditions. For its part, Shaimichengqian is pursuing a new path of flower cultivation and marketing. The village allocated 4,000 square meters of construction land to build a flower trading market. The credit for this idea goes to the joint Party committee. Today, the village's collective income exceeds 700,000 yuan. Thanks to this income, people over 60 in the village receive a pension of 150 to 200 yuan per month. Rice, oil, and other materials are distributed free of charge by the village, and each villager receives a bonus of 1,000 yuan at the end of each year. It was only a few years ago that debt collectors were knocking on the door of the village collective, which struggled to scrape together even several thousand yuan.
Nanxiaozhuang Village, located southwest of Daicun Village, is also involved in the planning for the New Rural City project. The village has identified eggplant and garlic as its key products. In the previous two years, the village Party branch mobilized Party members and residents to raise 200,000 yuan to fund eggplant and garlic cultivation. However, the village still lacked the funds to dig wells and build roads. Daicun Village advanced over one million yuan to help Nanxiaozhuang Village pave 15,000 square meters of road and dig more than 30 wells. "Under the coordination of the joint Party committee, the funds for road construction were quickly allocated. Now, we have asphalt roads connecting all villages," said Liu Jianyong, a member of the Daicun Village Party committee.
The New Rural City project has already produced an impressive list of achievements. A total of 3.6 million yuan has been donated to support the construction and development of 16 large-scale cultivation and breeding bases in 14 villages. Four eco-friendly and high-tech winter greenhouses have been built, generating an annual income of 240,000 yuan, all of which has been allocated to help people in difficulty, benefiting 133 households in 8 villages. A night tour called Impressions of Daicun Village has been launched, helping to promote employment and entrepreneurship for more than 11,000 people in more than 220 villages in 12 townships in Lanling County. A newly built agricultural enterprise park has attracted 23 enterprises that produce and process 100,000 tons of vegetables annually. Their products are sold nationwide and as far away as Japan and South Korea. Wang, who has recently been enjoying the success of the 20th CPC National Congress, is going all out to develop the New Rural City initiative into a model for rural revitalization that will promote the comprehensive development of a common prosperity demonstration area that is desirable to live in, work in, and visit. Wang is leading his fellow villagers in generating strong momentum for their new journey.
(Originally appeared in Qiushi Journal, Chinese edition, No. 23-24, 2022)
Source: English Edition of Qiushi Journal, 2023 No.1