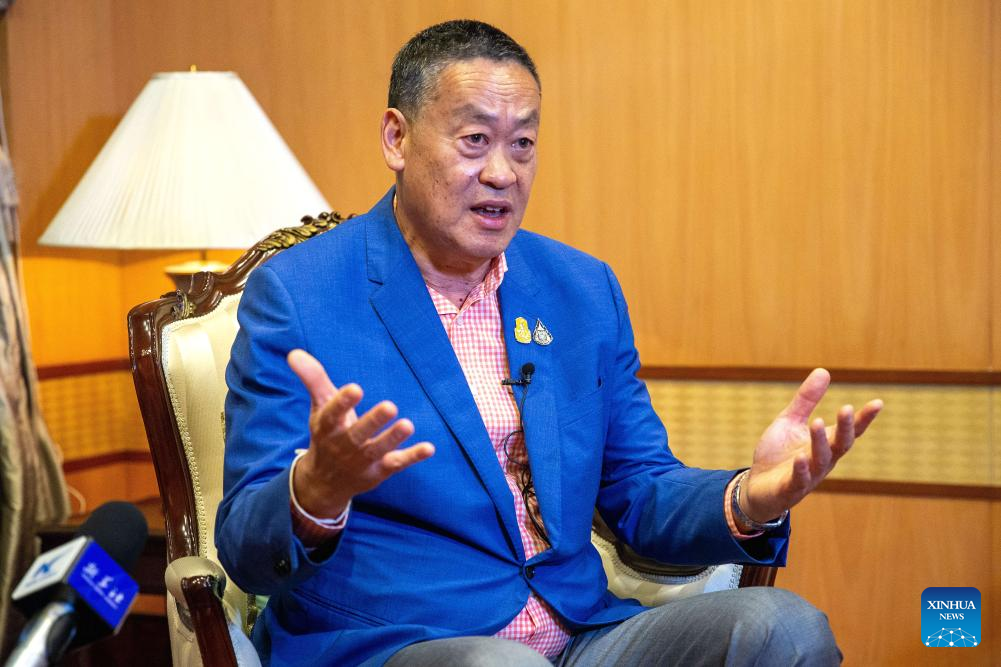 Thai Prime Minister Srettha Thavisin speaks during an interview in Bangkok, Thailand, Oct. 15, 2023. (Xinhua/Wang Teng)

BANGKOK, Oct. 19 (Xinhua) -- Thailand is looking forward to further cooperation with China under the Belt and Road Initiative (BRI) in infrastructure and green energy, said Thai Prime Minister Srettha Thavisin.
Logistics is one of the significant issues for Thailand regarding BRI cooperation, Srettha said in an interview with Xinhua before his official visit to China, during which he also attended the third Belt and Road Forum for International Cooperation.
"Since China is our biggest trading partner, without modern transport methods, goods cannot flow, and we need to improve that," he said.
Thailand, he added, would enhance the connection between its domestic railways and the China-Laos Railway, a flagship BRI project in the region.
During an earlier trip to Thailand's northeastern province of Nong Khai bordering Laos to inspect the China-Laos-Thailand railway connection, Srettha said Nong Khai's status as a transition point could bolster local development.
While the construction of the China-Thailand railway is underway, Thailand plans to upgrade existing railway lines and improve the link with Thailand's largest Laem Chabang Port to boost connectivity, he said.
Green energy is another area where Thailand seeks further cooperation under the initiative, said Srettha.
During the third Belt and Road Forum for International Cooperation, Srettha delivered a speech at a forum on green economy and sustainable development.
"We want to attract world-class investors into Thailand, so being able to supply them with green energy is key," he said.
Srettha pointed out that Thailand has become the manufacturing hub of electric vehicles (EVs) as more and more Chinese carmakers have invested in the country with China's world-leading expertise.
He is looking forward to enhancing EV supply chain cooperation with China to "create jobs and make sure that your assembled cars can be made rapidly and conveniently," he added.
Srettha said he would explore further cooperation between the two countries in agriculture, military, trade and investment.
"China is the biggest trading partner of Thailand. And lately has been a major country that made foreign investment into Thailand. We have a long-standing relationship," he said.
On his government's decision to grant a temporary visa-free policy to Chinese visitors, Srettha said the aim is to facilitate the travel of Chinese tourists.
He also believes closer people-to-people exchange would lay a solid foundation for further cooperation between the two countries.