President Xi Jinping has stressed that a modern industrial system forms the material and technological foundation of a modern nation. Accelerating the development of a modern industrial system underpinned by the real economy is crucial for ensuring China maintains the strategic initiative in future development and global competition. With our focus on the real economy, it is imperative that we promote smart, green, and integrated industrial development and build a complete, advanced, and secure modern industrial system. This will ensure solid material support for realizing the Second Centenary Goal of building a great modern socialist country and advancing the rejuvenation of the Chinese nation through Chinese modernization.
I. The significance of accelerating the development of a modern industrial system underpinned by the real economy
Without a solid material and technological foundation, we simply cannot build a great modern socialist country. We must therefore keep our focus on the real economy when pursuing economic development and work to establish a modern industrial system. China's experience in reform and opening up over the past 40 years has proven the real economy to be the cornerstone of its development. The modern industrial system meanwhile is a crucial support for the country in fostering strategic strengths for future development. Accelerating the development of a modern industrial system underpinned by the real economy is a requirement both of the times and our development. It holds profound and far-reaching implications, particularly in the following respects.
It is integral to creating a new development dynamic and promoting high-quality development
To forge a new development dynamic in a new stage of development, we must make our domestic economy more vibrant and reliable, while engaging in the global economy at a higher standard. The key to achieving this is ensuring unimpeded economic flows and achieving a dynamic equilibrium between supply and demand. On a fundamental level, this means establishing well-coordinated links between industries based on secure and stable industrial operations, so as to form a modern industrial system that is self-reliant, controllable, secure, reliable, and highly competitive. To promote high-quality development, it is necessary to continually optimize the allocation of production factors in order to propel transformative changes in the quality, efficiency, and dynamism of development, boost basic industrial capacity, and modernize industrial and supply chains. In doing so, we will deliver effective qualitative improvements and desired quantitative gains in the economy. Ultimately, all this must be supported by a modern industrial system. It is, therefore, imperative to accelerate the development of a modern industrial system underpinned by the real economy to ensure smooth economic flows and steadily raise total factor productivity. At the same time as addressing shortcomings, we must also promote the extension of industries toward the high-end of the value chain, as this will help to effectively foster a new development dynamic and promote highquality development.
It is an important guarantee for ensuring common prosperity for all and meeting people's aspirations for a better life
Since the advent of reform and opening up in 1978, China has vigorously developed the real economy to create an abundant supply of products, thus bringing an end to the era of scarcity and effectively satisfying people's production and living needs. Having addressed the issue of availability, we must now adapt to the evolution in the principal challenge facing Chinese society in the new era that began in 2012 and shift focus to the issue of quality by accelerating the development of our industrial system, improving our capacity to supply mid-to-high-end consumer goods, and meeting the demands of upgraded consumption. In doing so, we will drive steady improvements in living standards and people's wellbeing. Common prosperity is an integral part of socialism with Chinese characteristics. To promote common prosperity, we must elevate both labor productivity and workers' income levels—objectives that are unattainable without a modern industrial system. We thus need to expedite the development of a modern industrial system to strengthen and improve the real economy and create a large number of high-quality jobs, so as to not only make the pie larger and better but also divide it up better. This will allow people to realize their aspirations for a better life through development.
It is an urgent requirement for boosting China's international competitiveness and safeguarding national security
Today, the modernization of economies, especially major economies, is predominantly underpinned by a robust real economy. Even in the face of economic downturns, such economies have demonstrated remarkable resilience. In contrast, some former powerhouses have declined, while other countries have fallen into the so-called "middle-income trap," falling victim to long-term economic stagnation. A crucial reason for this is the failure of these countries to prioritize the development of the real economy and the modernization of their industrial systems. It is fair to say that a country's level of modernization is largely reflected in the strength of its real economy and the modernization level of its industrial system. At present, momentous changes on a scale unseen in a century are accelerating across the world. Food and energy security are acute issues, and industrial and supply chains are facing severe disruptions. External attempts to suppress and contain China could escalate at any time. To meet these challenges, we must move faster to develop a modern industrial system, boost the capacity of Chinese innovation, and establish resilient, comprehensive industrial and supply chains. With this, we can reinforce the underpinning of the real economy and solidify the foundations of national security and development.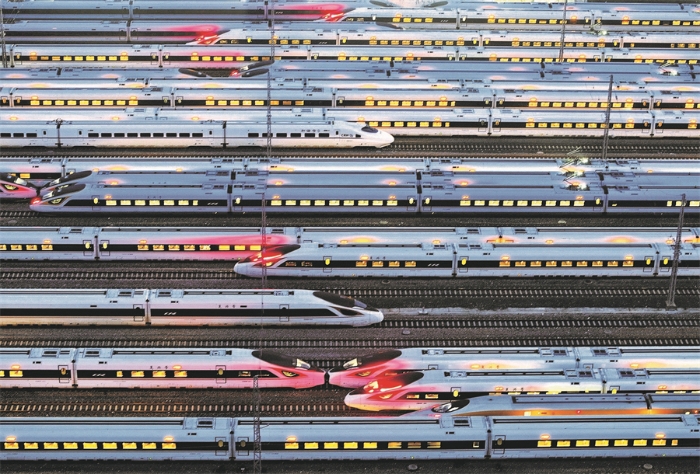 EMU trains are parked on a storage track at the Nanjing EMU Depot in the early hours of June 20, 2023. By the end of 2022, China's integrated transportation network exceeded 6 million kilometers in length, comprising the world's largest high-speed railway network, the world's largest highway network, and a world-class group of ports. PEOPLE'S DAILY / PHOTO BY FANG DONGXU
It is a crucial measure for adapting to a new wave of technological revolution and industrial transformation and seizing the initiative in future development
The current wave of technological revolution and industrial transformation is unprecedented in terms of intensity, reach, and impact. It has given rise to a vast array of emerging technologies and industries. These developments will profoundly alter production functions, raise productivity levels, and trigger a systematic restructuring and reshaping of the global industrial landscape. In industrial development, China is facing more intensive competition, coexisting opportunities and challenges, and a stark choice between forging ahead or falling behind. Our ability to firmly comprehend the rising tide of technological revolution, to build a modern industrial system tailored to the times, and to furnish the material and technological basis needed for innovative development will determine whether we can seize the strategic initiative in future development and intense global competition. We must accelerate the development of a modern industrial system underpinned by the real economy so as to harness new industries and new forms and models of business that can generate new growth engines. By fostering new growth drivers and new strengths, we will be able to seize the high ground in industrial competition, enhance the international competitiveness of our industries, and keep a firm grip on the initiative in development.
II. A solid foundation for accelerating the development of a modern industrial system
Since the 18th National Congress of the Communist Party of China held in 2012, the Central Committee with Xi Jinping at its core has accurately grasped the underlying trends of global industrial development, made sound judgments on the state of China's industrial development, and continued to focus on the real economy while pursuing economic development. It has introduced a series of new ideas, new thinking, and new strategies for industrial development, helping to elevate China's industries, agriculture, services, and infrastructure to new levels. This has created advantages for China in terms of industrial scale, systems, and leadership in several fields, setting a solid foundation for the development of a modern industrial system.
The core competitive strength of the industrial sector has been markedly increased
The manufacturing sector has grown steadily in scale. In 2022, the added value of China's manufacturing reached 27.7% of GDP and nearly 30% of global manufacturing output, securing China's leading position in manufacturing for the 13th consecutive year. China is the only country in the world to possess all industrial categories as classified by the UN. It also leads the world in terms of output for over 200 of the 500 major categories of industrial products. This is a testament to China's formidable manufacturing capabilities and comprehensive support capacity. The innovative capacity of the manufacturing sector has also been markedly strengthened. In certain fields, China is either approaching or already meeting advanced global standards; in sectors where once it lagged behind, it is now gaining parity or moving into the lead. By accelerating integration between the digital economy and the real economy and advancing green, low-carbon, and circular development, we have fostered important engines for highquality industrial development.
The foundational role of agriculture has been continually consolidated
We have steadily increased overall agricultural production capacity, with annual grain output remaining above 650 million metric tons for eight consecutive years. We have achieved basic self-sufficiency in grain and absolute security in our food supply, which remains firmly in our own hands. The food crop production strategy based on farmland management and application of technology has been extensively implemented. We have accelerated the development of agricultural water conservancy infrastructure and developed 66.67 million hectares of high-standard farmland. The overall mechanization level of plowing, sowing, and harvesting has reached 73%, bringing about a substantial jump in our agricultural production efficiency and ability to ensure food security. We have achieved a full victory in the fight against poverty and secured further progress in rural reform; and we have basically established a rural industrial system and considerably improved the living conditions of rural people, giving further play to the foundational role of agriculture.
The quality and performance of the service industry has been continuously improved
The service industry continues to expand in scale. Despite significant challenges owing to the Covid-19 pandemic, its value-added equaled 52.8% of GDP in 2022, contributing 41.8% of economic growth, to account for around half of the national economy. Employment in the service industry has also climbed steadily, with a large number of new employees entering emerging industries, highlighting how the service industry functions as an "employment reservoir." We have seen rapid growth of trade in services, with total import and export volume for services reaching nearly 6 trillion yuan in 2022. This has enabled China to retain its position as the world's second-largest trader of services for several consecutive years. Service industry enterprises have continued to optimize traditional production and consumption methods, and the producer services sector has advanced toward greater specialization while consumer services have extended toward the high-end. The primary, secondary, and tertiary industries are now more integrated, and new business forms and models are being nurtured at a faster pace to provide fresh momentum for economic development.
Infrastructure construction has been rapidly advanced
A vast infrastructure network has been built out, paving the way for striking improvements in supply levels and service capabilities. By the end of 2022, China's integrated transportation network exceeded 6 million kilometers in length; power transmission lines running at 220 kV and above exceeded 800,000 kilometers, and optical-fiber cables ran to almost 60 million kilometers in length. China's high-speed rail, expressway, power grid, and 5G networks are the world's largest. Our country has also achieved qualitative leaps in the construction of mega water conservancy projects, third-generation nuclear power, and the industrial internet, and it is a world leader in building offshore deepwater ports and hub airports. Steady strides have been registered in the construction of major logistics infrastructure. Thanks to rapid improvements in infrastructure for innovation, we have put in place a comparatively complete national system of major scientific and technological infrastructure.
III. Grasping the overall requirements for accelerating the development of a modern industrial system
President Xi Jinping's important conclusions on the development of a modern industrial system reflect the practical realities of China's industrial development and are geared toward the goal of Chinese modernization. They also reflect a systematic and dialectical approach. In our work, it is important that we prioritize coordination in the following five respects.
Coordinating the government-market relationship

The market's role in determining resource allocation constitutes a general law of market economies. In essence, a market economy is based around market-driven resource allocation. We must continue reforms to develop the socialist market economy and promote an efficient market and an effective government, with each fulfilling their respective roles. To improve the environment for industrial development, we should take stronger action against monopolies and unfair competition, continuously refine the market access system, and develop a unified national market. We must move faster to develop a high-standard market system and reinforce the important role of standards in guiding upgrades to the industrial system. To further improve the industrial development ecosystem, we should enhance the efficiency and quality of financial services for the real economy, make a major push to train innovative, applied, and skilled talent, see that industrial development is underpinned by science and technology, and ensure resources and production factors are allocated with the aim of achieving maximum benefits and optimal efficiency. We must uphold the leading position of enterprises in development. We should foster development momentum and vitality among all types of enterprises and strive to develop world-class enterprises as well as businesses that use special and sophisticated technologies to produce novel and unique products. We should promote the integrated development of large, medium, and small enterprises.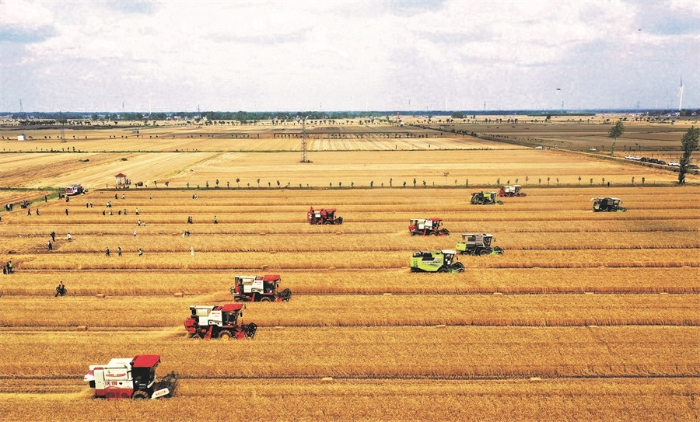 Harvesters participate in the 2023 Henan Province Wheat Loss Reduction Competition in Tanghe County, May 24, 2023. Thanks to a steady increase in its overall agricultural production capacity, China has kept its annual grain output at over 650 million metric tons for the last eight consecutive years. PHOTO BY XINHUA REPORTER ZHANG HAORAN
Coordinating the development of the primary, secondary, and tertiary sectors
A modern industrial system is an integrated entity, in which agriculture, industry, services, and infrastructure each play their respective roles and evolve toward greater integration in line with the laws of industrial evolution. It is crucial to refine industrial policies for the new stage of development. We need to bolster the foundational role of agriculture from a strategic perspective, enhance the core competitiveness and risk resilience of the industrial sector, and strengthen the supportive role of services and infrastructure, so as to secure the main architecture and key pillars of the modern industrial system. We must continue to pursue integrated development of the primary, secondary, and tertiary sectors and of their upstream and downstream components. We should shore up weaknesses hindering collaboration and synergy in order to improve overall industrial efficiency, fend off fragmentation and conflict, and prevent economic hollowing out and the emergence of economic bubbles. With these efforts, we can promote positive interactions and integration among all three sectors.
Coordinating the transformation and upgrading of traditional industries and the nurturing and growth of emerging industries
Traditional industries are the mainstay of China's manufacturing sector, boasting significant international competitiveness. As the basis for the development of a modern industrial system, they should not be simply dismissed as "low-end" or "backward" to be replaced. Rather, we must guide and support a great number of traditional industry enterprises in moving with the times, actively adopting advanced and practical technologies to speed up transformation and upgrading, and continuously enhancing market competitiveness. For those enterprises that face difficulties in upgrading but possess the conditions to transform themselves, we should take tailored and timely measures to facilitate their transformation. Through a combination of transformation and upgrading, such enterprises will generate fresh momentum and carve out new competitive advantages. Emerging industries serve as new pillars guiding future development. However, they must avoid rash expansion, indiscriminate adoption of foreign practices, and haphazard development. Based on the principle of boosting growth while maintaining economic stability, we should work continuously on planning development strategies, bringing together high-end elements, improving the market environment, and cultivating industrial ecosystems. We should use technological breakthroughs and innovative models to form new industries and forms of business. We must move with speed to develop plans for key strategic sectors and tomorrow's industries so as to shape the contours of new growth areas.
Coordinating domestic and international markets and resources
Markets are in fact the scarcest resource. Thus, China's vast market resources represent a major advantage. In developing a modern industrial system, we should put this advantage to best use and keep working to consolidate it. To this end, we should firmly implement the strategy to expand domestic demand, boost consumer spending, and accelerate the improvement and upgrading of consumption. We need to optimize investment structures, expand investment opportunities, and support the iterative application of new products and technologies to foster a robust domestic market. We must promote high-standard opening up, optimize our positioning in international markets, reinforce commodity structures, and improve trade methods. Steps should be taken to raise the quality of exports, increase imports of high-quality products, attract and utilize foreign capital with greater intensity, and efficiently assemble innovation factors from around the globe. We need to support enterprises in improving their abilities and standards with respect to transnational operations. China will participate extensively in work to formulate international economic and trade rules and offer the world more Chinese initiatives and insights.
Coordinating development and security
Security is the prerequisite for development, and development provides a guarantee for security. An industrial system without adequate security will inevitably be exposed to various risks and challenges. Hence, security and development must be advanced in tandem. With stronger emphasis on ensuring industrial security, we should step up efforts to make breakthroughs in core technologies in key fields and bolster strategic resource support. We should strive to build self-reliant, controllable, secure, and efficient domestic industry and supply chains and establish a security "firewall" conducive to the sustainable development of the modern industrial system. At the same time, we must be ready to deal with worst-case scenarios, be more mindful of potential dangers, and accurately predict and anticipate changes and trends in the industrial sector and on the industrial development landscape. We must be alert to "black swan" events and guard against "gray rhino" scenarios, responding proactively and handling situations carefully to prevent major risks or crises.
IV. Firmly and effectively implementing the major tasks and measures for accelerating the development of a modern industrial system
Standing at a new historical juncture, we must continue to take Xi Jinping Thought on Socialism with Chinese Characteristics for a New Era as our guide. We must thoroughly implement the decisions and plans of the CPC Central Committee, follow a systems approach, and apply dialectical thinking. We must stay focused on the real economy when pursuing economic development and make innovation an integral feature of our industrial development. We should coordinate the development of modern industry, agriculture, services, and infrastructure and maintain firm control over our manufacturing sector. All this will lay a more solid material and technological foundation for building a modern socialist country and advancing national rejuvenation.
Consolidating our leading position in industries where we excel
To transform and upgrade traditional industries, we will promote advanced and practical technologies, drive energy-saving and carbon-cutting improvements in key areas, and enhance technology levels, output efficiency, and economic performance, so as to consolidate the advantages we have accumulated over the years. We must move faster to shore up weaknesses and shortcomings. We will further implement the action plan for strengthening the core competitiveness of manufacturing along with projects for industrial foundation reengineering and research on major technologies and equipment, so as to bolster weak links in key manufacturing industry chains. Greater efforts will be made to explore and develop important energy and mineral resources, discover more untapped reserves, and increase production to improve self-sufficiency. We will leverage the comparative advantages of different regions by optimizing cooperation and division of labor among regions, and adopt multiple measures to optimize the layout of major production sectors such as petrochemicals, automobiles, and integrated circuits.
Cultivating new engines of growth
We will accelerate the advancement of cutting-edge technology research and application, promote the integrated and clustered development of strategic emerging industries, and press ahead with projects to build strategic emerging industry clusters. This will see us fostering a host of new-generation growth engines in fields such as information technology, artificial intelligence, biotechnology, new energy, new materials, high-end equipment, and environmental protection. We will channel greater energy toward tackling key issues affecting entire industry chains, provide comprehensive support, and drive all-around development to propel major strategic industries forward. We will explore multiple paths for the development of frontier and disruptive technologies and establish national leading zones for industries of the future. We will also move ahead of time to make strategic plans for several of tomorrow's industries.
Promoting further integration of the digital and real economies
To accelerate the industrialization of the digital sector, we will strengthen foundational research on digital technology and cultivate and bolster emerging industries such as artificial intelligence, the Internet of Things, and quantum computing, with a view to building internationally competitive digital industry clusters. We will also prudently yet actively move forward with the digitalization of industry and better steer the development trajectory of digital, smart, and network-based technologies. Utilizing digital technology, we will effect a comprehensive transformation in all facets and areas of the manufacturing, service, and agricultural sectors. We will carry out major explorations of settings for digital transformation to continue fostering new industries and new forms and models of business.
Steadily advancing agricultural modernization
Focused on the food crop production strategy based on farmland management and application of technology, we will launch a new drive to increase China's grain production capacity by 50 million tons and consolidate and enhance production capacity for grain and other important agricultural products. In this way, we will ensure national food security and the supply of critical agricultural products. We will further invigorate the seed industry, strengthen the protection and utilization of germplasm resources, construct more and better seed banks, and intensify research for breakthroughs in superior seed technologies. We will vigorously develop new forms of agriculture such as synthetic biology and factory-based agriculture. We will further supply-side structural reforms in agriculture, optimize agricultural structures, accelerate the integrated development of primary, secondary, and tertiary industries in rural areas, and upgrade the entire rural industry chain. We will continue to concentrate on expediting breakthroughs in key and core agricultural technologies to support the development of agricultural science, technology, and equipment.
Establishing a new system of efficient and high-quality services
We will strengthen policy guidance, promoting digital, integrated, high-quality, and green development of the service industry in line with international standards. We will guide the producer services industry in becoming more specialized and moving toward the high-end of the value chain and upgrade and diversify consumer services. We will further the high-standard opening of the services industry, shorten the negative list for foreign investment access as necessary, and increase the openness of cross-border services trade. We will encourage deeper integration of modern services with advanced manufacturing and modern agriculture and enhance the quality and efficiency of service provision. Coordinated efforts will be made to develop both the hard and soft infrastructure needed for a modern logistics system so as to reduce logistics costs, improve logistics efficiency, and establish an efficient and smooth logistics system.
Building a modern infrastructure system
Drawing on valuable experience in using infrastructure construction as a sound guide for industrial development, we will optimize infrastructure with regard to layout, structure, functions, and integration to better harness overall efficiency in the infrastructure system. We will transform and upgrade traditional infrastructure, stepping up the construction of railways, highways, water transport, aviation, pipelines, and logistics. We will move faster to plan and build new energy systems, put in place the main architecture and major arteries of the national water network, and provide robust infrastructure support to ensure more secure development. Importance will be attached to the development of all types of new infrastructure. We will accelerate the building of information infrastructure, steadily develop integrated infrastructure, and make appropriate forward-looking plans and deployments for the development of innovation infrastructure.
Zheng Shanjie is Chairman and Secretary of the CPC Leadership Group, National Development and Reform Commission.
(Originally appeared in Qiushi Journal, Chinese edition, No. 13, 2023)
Source: English Edition of Qiushi Journal, No.4,2023