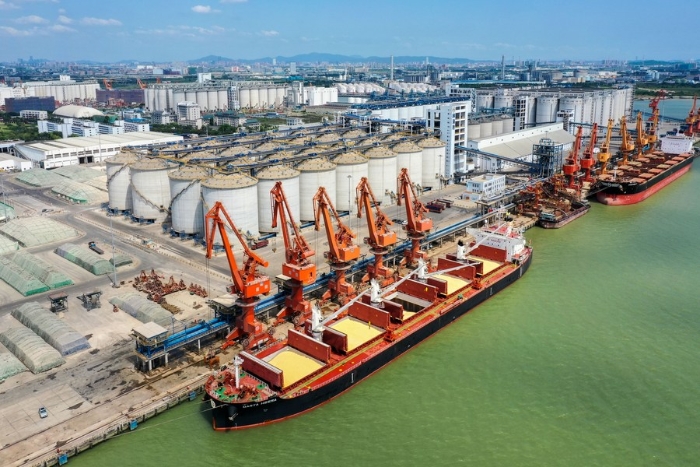 This aerial photo taken on May 4, 2023 shows a cargo ship carrying corn imported from South Africa at a port in south China's Guangdong Province. (Xinhua/Liu Dawei)
BEIJING/JOHANNESBURG, Aug. 21 (Xinhua) -- China is playing an important role in driving mutually beneficial BRICS cooperation, said experts, noting that further developments are expected to emerge as the 15th BRICS Summit takes place in Johannesburg, South Africa, from Aug. 22 to 24.
Guided by the BRICS spirit of openness, inclusiveness and win-win cooperation, member nations have enhanced cooperation to promote economic recovery in the aftermath of the COVID-19 pandemic, according to the experts.
China's foreign trade with other BRICS countries -- Brazil, Russia, India and South Africa -- soared 19.1 percent year on year to 2.38 trillion yuan (about 330.62 billion U.S. dollars) in the first seven months of 2023, data from the General Administration of Customs showed Monday. This accounted for 10.1 percent of China's total foreign trade value during the period, marking a rise of 1.6 percentage points.
Specifically, China's exports to these countries totaled 1.23 trillion yuan, up 23.9 percent year on year, while its imports reached 1.15 trillion yuan, with a year-on-year growth of 14.3 percent.
According to Dr. Kenneth Creamer, an economist from the University of the Witwatersrand in Johannesburg, "the main objective of BRICS is to encourage increased levels of trade and cooperation among member countries and BRICS has been successful in advancing this objective since its first meeting."
"Increased cooperation in sectors such as energy and agriculture can play an important role in lifting levels of economic growth and employment in BRICS member countries. Increased trade and cooperation among BRICS countries can also assist in promoting economic recovery after the negative impact of the COVID-19 pandemic," said Dr. Creamer, who is also a member of the Presidential Economic Advisory Council.
Regarding the China-South Africa cooperation, Dr. Creamer said China and South Africa should build on existing strong relations to seek to better integrate the countries' manufacturing and supply chains to aid development and opportunity in both countries.
In the first half of the year, bilateral trade between China and South Africa reached 28.25 billion U.S. dollars, up 11.7 percent year on year, official data showed. China has maintained its position as South Africa's largest trading partner for 14 consecutive years, while South Africa has been China's largest trading partner in Africa for 13 consecutive years.
"Chinese enterprises should be encouraged to use South Africa as a base country from which to manufacture, assemble and deliver products and services for sale in other countries in Sub-Saharan Africa," Dr. Creamer said.
China has remained Africa's largest trading partner for 14 consecutive years. The two sides have together constructed and commissioned over 10,000 km of railway, nearly 100,000 km of highway, and an array of important infrastructure projects, including airports, docks, bridges and power plants, according to China's Ministry of Commerce.
Speaking to Xinhua, Tshifhiwa Tshivhengwa, CEO of the Tourism Business Council of South Africa, said they are looking at the BRICS summit to bring in more tourists. "It's a major event. We're expecting it to boost our tourism."
"We need to focus on countries like China to bring more tourists to the country. That's where our growth in terms of tourists will come from; we need to look beyond the traditional areas," Tshivhengwa added.
Wandile Sihlobo, chief economist and researcher at the Agricultural Business Chamber of South Africa, pointed out that China has one of the biggest markets in the world in terms of agricultural products.
"South Africa is one of the countries that is also trying to deepen its exports into China, which is something that is part and parcel of the discussions that are happening within the various BRICS business working groups," Sihlobo said.
Themed "BRICS and Africa: Partnership for Mutually Accelerated Growth, Sustainable Development and Inclusive Multilateralism," this summit will carry forward the sound momentum of cooperation from the BRICS "China Year" 2022 and chart a brighter future for BRICS.
"The summit is of great significance for advancing practical cooperation among emerging markets and developing countries in various fields, promoting global governance reform, and enhancing the representation and voice of developing countries," said Li Wentao, a researcher with the China Institutes of Contemporary International Relations.
Li added that against the backdrop of major global changes, the solidarity and cooperation among BRICS countries will bring more certainty to an uncertain world.