Arxan is in the north-western part of Hinggan League in Inner Mongolia—a border city that straddles the south-western foothills of the Greater Hinggan Range.
On January 26, 2014, just a few days before the Chinese New Year, President Xi Jinping, braving the bitter winter weather, visited Arxan to call on residents in rundown residential areas. He stated, "We Party members and officials must possess a certain conscientiousness which ensures that we will not be satisfied as long as there is just one family, one household, or even one person who has not had their basic needs met, and that we will lead the people to keep working as long as their aspirations for a better life remain unrealized."
Over the past eight years, the people of Arxan have forged ahead in the direction set by President Xi, sticking firmly to a green development path that puts the environment first. The redevelopment of rundown areas has been completed. There has been striking ecological progress, and integrated tourism is booming. Arxan has turned onto a new page featuring peace and contentment for ordinary people and prosperous development for urban and rural areas.
From anxiety to stability
On Linhai Street, rows of larch trees surround the impressive buildings of the Hongxu Community. Retired forestry worker Guo Yongcai and his wife have lived here for nearly eight years.
"When President Xi came to our old home, he enquired about every aspect of our lives. He said that it was important to get everybody into new homes as soon as possible. He really showed genuine concern for us ordinary folks." When they recall Xi Jinping's visit to their home, Mr. Guo and his wife still cannot conceal their excitement. "We have left behind our old house of wooden planks and mud for a new home that is warm in winter and clean. With indoor facilities, we can visit the toilet or take a shower without being frozen by the cold. We live a comfortable life now and look forward to the day President Xi will call again."
Good housing is the most basic expectation and dream of ordinary people. Since 2014, Arxan has invested a total of 4.2 billion yuan in redeveloping rundown areas to provide new homes for 10,400 households, thus ensuring decent housing for all residents in such areas. According to statistics, the redevelopment projects have benefited over half of the city's residents, with more than 30,000 people moving from rundown dwellings to secure homes. To consolidate this achievement, the city has worked consistently to improve the road network, pipelines, waste disposal, and other infrastructure, built a new public square, and intensified greening efforts. All of this has helped significantly improve city functions and living environment.
The homes in rundown residential areas were once frequently affected by flooding in summer and hoar frost in winter. Today, thanks to the redevelopment program, the city looks more beautiful, but more importantly, its citizens are living better lives.
From logging trees to protecting them
Arriving in Arxan City, you are met by lush swathes of grassland, oceans of thick forest, and a natural symphony of birdsong, murmuring streams, and whispering woodlands. The delicate fragrance of wood is almost intoxicating.
"In recent years, our environment has seen consistent improvements. In the forests, the number of small animals has increased steadily. You will often see reindeer, snowshoe rabbits, and wild hogs. And in the past two years, we have even seen the emergence of new and unfamiliar species," said Bai Yuhua, who has worked at Dular Forest Farm for 32 years. Through his work of fire prevention in spring, afforestation in summer, poaching prevention in autumn, and management and protection in winter, Bai has witnessed even the most minute details of the transformation in the forest ecosystem since logging was banned in Arxan.
Arxan is a quintessential forestry city. However, due to years of over-exploitation, usable forestry resources were exhausted several years ago. To safeguard its precious natural environment, the city made forest and grassland protection a priority. Starting in 2002, it prohibited grazing and returned cultivated land to its original state. In 2012, it became the first city in Inner Mongolia to completely put a stop to logging in state-owned forests. Since 2014, it has continued to drive forward ecological protection work—implementing protection projects on 1.1 million hectares of natural forest, closing 80,000 hectares of hillsides to facilitate afforestation, foresting more than 26,000 hectares of land, and converting over 16,000 hectares of land back to forest or grassland. It has also greened 1,000 hectares of land in key areas. Forest coverage for the entire city now stands at 81.2% and vegetation coverage is over 95%. The quality of all ground and surface water in the city is up to Grade III. With these improvements, Arxan has contributed to building up northern China's ecological shield.
Its stunning natural environment has earned the city the title "Inner Mongolia's green pearl."
Lucid water and lush mountains as the supports for a better life
Arxan City is located at the intersection of Horqin Grassland, Xilingol Grassland, and Hulunbuir Grassland. It is rich in tourism resources, with natural features such as hot springs, wetlands, volcanoes, ice and snow, and grasslands.
After the complete ban on logging came into effect, the city's leading industries, which were dependent on forestry resources, gradually declined, and a large surplus of labor emerged from the forestry industry. The greatest test the city faced in transforming its development model was ensuring re-employment for former forestry workers. To this end, it harnessed its exceptional tourist advantage by pursuing development based on the ecological environment and with a tourism focus. Through a "tourism-plus" strategy, it initiated a comprehensive economic shift. Integrated tourism, intangible cultural heritage industries, and cultivation of specialty agricultural products all registered sustained growth. Revenue from tourism grew from 1.57 billion yuan to over 6 billion yuan, laying a solid foundation for economic development and growth in the incomes of urban and rural residents. In April of 2019, Arxan formally exited the ranks of poor areas in China.
As a seasoned forestry worker at the Bailang Forestry Bureau, Yu Jiujiang has benefited from the city's pivot to green development. He has not only switched professions from felling trees to protecting them but has also found work as a tour guide and opened his own homestay business. He brings tourists to enjoy the vast forests and snowy grasslands and to experience the customs and culture of the forest. Yu is earning tens of thousands of yuan per year. By following in Yu's footsteps, increasing numbers of forestry workers are benefiting from the boom in tourism. In addition to environmental protection, they are engaging in business operations in various sectors and enjoying improvements in their lives. As the local people often say, "If you trade in your ax to be a tour guide, moderate prosperity is sure to arrive." This phrase perfectly captures the transformation of Arxan.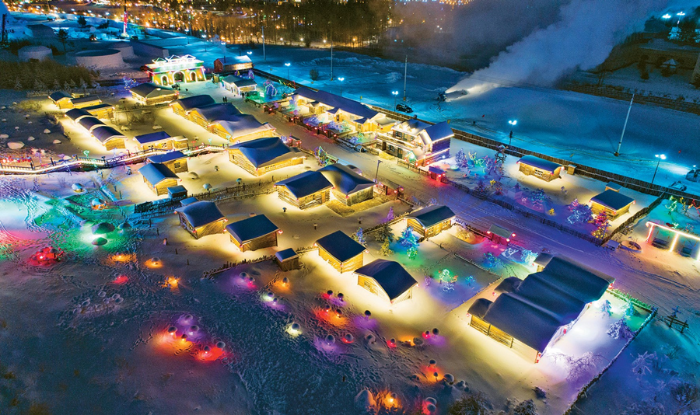 Night view of a snow-covered village on the outskirts of Arxan City, Inner Mongolia Autonomous Region. PHOTO BY WANG ZHENG

This city is now a national demonstration zone for eco-tourism, a health tourism destination under the Belt and Road Initiative, a national demonstration city for ecological progress, and an innovation base for applying the principle that lucid waters and lush mountains are invaluable assets. Moreover, the city has become a showcase for green development in Inner Mongolia.
(Originally appeared in Qiushi Journal, Chinese edition, No. 11-12, 2022)
Source: English Edition of Qiushi Journal,No.4, 2022