Beneath the warm May sun, the Lesser Hinggan Range is covered in a dense layer of green forest. The sight of red pine, white birch, and larch trees stretching as far as the eye can see is a delight to behold. Located in the north-eastern part of Heilongjiang Province, Yichun is home to the world's largest virgin forests of Korean pine, also known as red pine. People call Yichun "China's forest capital" and the "hometown of the red pine tree."
On May 23, 2016, President Xi Jinping visited Yichun and toured the forestry area under Shangganling Forestry Bureau to get a firsthand insight into the protection of virgin forests. He called to the homes of forest farm employees and learned about their living conditions and re-employment situations. He visited Yichun Ecological Economic Development Zone and a blueberry cultivation park under Youhao Forestry Bureau to find out about the development of alternative industries. During his visit, President Xi pointed out, "The eco-environment is itself a resource and a production force." After the introduction of blanket bans on commercial logging, he noted, key forestry regions needed to explore alternative paths for industrial development, based on the notion that, like lucid waters and lush mountains, the abundant snow and ice provided by the climate are also invaluable assets. At the home of forestry worker Liu Yangshun, President Xi stated that the Party central leadership has always been concerned about the people of Yichun, that the policies of the Party and the government will remain consistent, and that everyone should, by dint of their own efforts, strive to tap new avenues for injecting vitality into Yichun's old forestry areas.
The people of Yichun have kept these instructions in mind and bravely forged ahead. Over the past six years, guided by the principle of green development, Yichun has made major efforts to develop a forestry economy. It has shifted from exploiting to protecting the mountains and gradually turned its ecological advantages into strengths for industry. Today, it is home to vast stretches of thriving forests. It has become a consensus that the city must protect the eco-environment and pursue green development. Former loggers have become guardians of the natural environment, and a wonderful dynamic is playing out where people are living in harmony with nature and striking a balance between development and environmental protection.
Lush mountains offering limitless opportunities for a green shift
The immense forests of Yichun are a precious asset. The red pines here are not only large in quantity, but rich in variety. Previously, the city sank into a vicious circle—the more forest it cut down, the poorer it became, and the poorer it became the more forest it cut down. President Xi Jinping pointed out during his tour of Yichun that if people exploited the natural environment and only consumed without replenishing, natural resources would not last very long. If this ecosystem were to be destroyed, it would have implications for China's entire situation. People at Yichun have kept this important exhortation in mind and come to recognize the importance of environmental protection. Now the city is committed to following a new path where industrial development and ecological progress reinforce each other.
In late May, at the red pine grafting nursery in the Tieli Forestry Bureau Company, workers skillfully grafted scions of red pine in the fruiting stage onto red-pine rootstocks that are under 10 years old. With this method, the time required for natural red pine to bear fruit can be reduced from 40 years to just 10 years. Red pine trees are full of treasures. Constituting a whole industry chain in themselves, they not only yield pine seeds but also provide the source of pine seed oil and essential oil, made through deep processing, and of wood that can be used for carvings and other handicrafts. Staff working in the nursery can earn 200 yuan a day for grafting work. They also pick wood-ear mushrooms and wild herbs. These days they are rarely idle over the course of the year and earn far more than when they worked as loggers.
"To develop a forestry economy, it is important to study the market, focus on diversified operations, and avoid acting rashly and creating an imbalance between production and sales," pointed out President Xi Jinping. Following the direction set by President Xi, Yichun has strived to develop a forestry economy. It has made initial progress in developing five distinctive industries, namely, forest food products, herbs for traditional Chinese medicine, forest eco-tourism, refined and deep processing of wood, and green mining. The production and sale of red pine seeds, pine seed oil, hazelnuts, blueberries, blueberry wine, birch sap, and other eco-friendly products are flourishing. The cultivation of traditional Chinese medicinal ingredients such as Acanthopanax senticosus, Schisandra, and Panax ginseng is also in full swing. Thanks to these advances, the place now has a forestry economy that is imbued with immense vitality.
Crafting a new dynamic through coordinated steps
After a spring shower, the fragrance of red pine hangs in the air of Yangxin Valley Scenic Area in Jinlin District. In the cold, moist valley soil, large patches of lilies are springing up. Yang Yi, who oversees the scenic spot, said, "The lilies we cultivate can survive temperatures of -35 degrees Celsius without the need for any additional protective measures. When the orange lilies bloom, this area becomes a beautiful sea of flowers. Lilies are both a medicine and a food. Apart from being nice to look at, they are also used to make steamed buns and wine, which are tourist favorites."
Located in the hinterland of the Lesser Hinggan Range, Yichun has a negative oxygen ion concentration of 4,000-6,000/ cm³ (a concentration above 1,000/cm³ is an indicator of fresh air). It is home to an area of 4 million hectares of landmass dotted with mountains, rivers, and forests, and 400,000 hectares of wetlands. Now 83.8% of its jurisdiction is forested. Based on these unique natural resources, Yichun has positioned itself to become an ecological city and tourism hotspot and vigorously developed forestry-based eco-tourism. Having shifted from waiting for help and staying idle in winter to working and earning money year-round, locals have opened family-run inns and restaurants and felt the benefits of this with continuing improvements in their lives. Over the past six years, Yichun has received more than 65 million tourist visits, and tourist revenue has topped 50 billion yuan.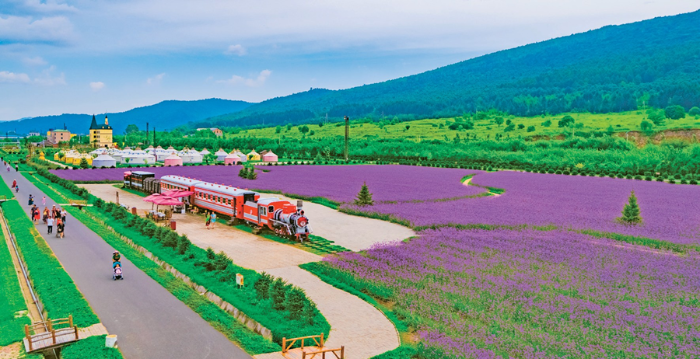 Langxiang flower gardens. The Langxiang Forestry Bureau Co. developed this eco-forestry tourism initiative on the former site of a 220,000-squaremeter timber depot. The gardens are planted with almost ten million beautiful flowers and plants, some of which can be used for medicinal purposes. HEILONGJIANG DAILY / PHOTO BY YANG GANG
Breaking new ground with accelerated progress
In the winter of 2021, hundreds of forestry workers spent 20 days building an ice and snow cultural and creative park in the center of Yichun. The tools with which they carved the ice sculptures and snowscapes were the same chainsaws and axes they once used to fell trees. "From the design plans to the construction, the 14 sections of the cultural and creative park were all completed by forestry craftsmen from the Yichun Forest Industry Group (YFIG). Former loggers have been transformed into tourism workers," said Li Guangming, chairman of Yichun Tourism Development Group.
Yichun is using digital technology, biotechnology, ice and snow, and creativity to fuel an ecology-based shift, accelerate the development of new engines for economic growth, and advance along a new path of green development. Not long ago, YFIG officially launched a "blockchain plus brand-building" initiative to fully harness the role of block-chain in promoting data sharing, optimizing business processes, reducing operating costs, improving collaborative efficiency, and building trusted systems. To boost the value of selected YFIG-brand products, special industry data for red pine trees, snow honey, edible mushrooms, and the management of blowdown wood were moved onto the block-chain first. YFIG is also carrying out block-chain demonstrations to promote customer service, ensure smooth regulation, facilitate production, and support decision-making. These moves are helping to turn Yichun's ecological assets—natural beauty, excellent air, high negative oxygen ion concentration, and a pollution-free environment—into a new source of momentum for a modern forestry economy featuring high quality, excellent products, and competitive prices.
(Originally appeared in Qiushi Journal, Chinese edition, No. 11-12, 2022)
Source: English Edition of Qiushi Journal,No.4, 2022