The brick-paved lanes and rows of shops along Barkhor Street are bustling with crowds.
In July 2021, President Xi Jinping visited Barkhor Street in the old town of Lhasa during his tour of the Xizang (originally spelt as Tibet) Autonomous Region. In specialty stores, he enquired about the development of tourist, cultural, and creative industries, and the protection of Tibetan cultural heritage.
Seeing that people on the street were from all over China, President Xi marveled, "I visited this street 23 years ago. Today it is truly flourishing. The 1,000-year-old Barkhor Street was jointly built by China's various ethnic groups. Cultures of different ethnic groups have come into contact, communicated, and blended here. It is a place where all members of the Chinese nation have realized happy and harmonious relations."
Barkhor Street is a microcosm of Xizang's overall ethnic solidarity. It also reflects the common prosperity and development of all ethnic groups as members of the Chinese nation.
Barkhor Street was built by China's various ethnic groups.
Barkhor Street, which runs around Jokhang Temple, has a history of more than 1,300 years. Since its formation, it has been marked by the stamp of joint development among various ethnic groups in Xizang.
Originally built in the seventh century, Jokhang Temple underwent several renovations and expansions to become the huge complex it is today. Down through the ages, the area around Jokhang Temple gradually developed into a cultural, commercial, religious, and residential area—Barkhor Street. The street hosts the famous Tang-Tubo Alliance Monument and the former office of the Qing government's grand minister in Tibet.
In the year 821, the Tang Dynasty and the Tubo Kingdom formed an alliance. In 823, the two sides carved a record of the alliance on a stele in Chinese and Tibetan scripts and erected it outside Jokhang Temple. The Tang-Tubo Alliance Monument chronicles the history of unity between the Tibetan and Han ethnic groups. It is also a testament to the solidarity and mutual assistance that exists among all the ethnic groups of China's great socialist family on the Qinghai-Xizang Plateau and their joint advance toward a better life.
Just a few paces from the Tang-Tubo Alliance Monument sits a courtyard with a three-story Tibetan-style building steeped in over 300 hundred years of history. This is the former office of the Qing government's grand minister in Tibet. The many cultural relics on display here demonstrate just how Xizang has been an indivisible part of China since ancient times. After the peaceful liberation of Xizang in 1950, the site was used to house ordinary people and was affectionately known as the "North Courtyard on Barkhor Street." For decades, people of various ethnic groups lived here in harmony, like members of the same family.
The Han, Tibetan, Hui, Monba, Lhoba, Naxi, and other ethnic groups have enjoyed close, harmonious relations here and have jointly made Barkhor Street what it is today. As President Xi Jinping has pointed out, Xizang was jointly developed by its various ethnic groups, its history was jointly written by its various ethnic groups, and exchanges between the Tibetan and other ethnic groups are a prominent feature of Xizang's historical development.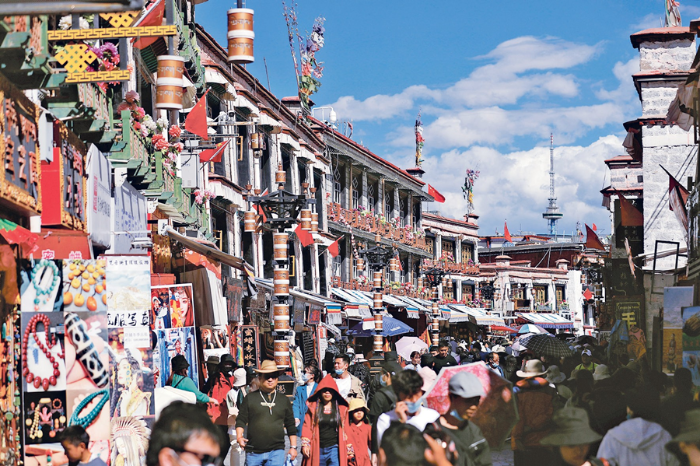 Crowds of tourists wander through Barkhor Street. As one of Xizang's most famous commercial areas, Barkhor Street in central Lhasa has welcomed increasing numbers of visitors and business people of all ethnic groups from across the country in recent years. PHOTO BY CNS REPORTER FU TIAN
The lives and mindset of people of all ethnic groups have witnessed momentous changes.
In the early 1950s, Lhasa had almost no proper streets apart Barkhor around Jokhang Temple, nor did it have any public service facilities, streetlights, running water, or drainage systems. Over the past 70-plus years since Xizang's peaceful liberation, under the leadership of the CPC, people of all ethnicities have always upheld patriotism and ethnic unity, safeguarded China's national unity and ethnic solidarity, and made the miraculous achievement of realizing centuries of transformation in a matter of decades.
During his tour of Xizang, President Xi visited with local officials and residents. From Nyingchi to Lhasa, the greeting "Tashi Delek" was heard time and again. Local people from all ethnic groups sang and danced with Khata scarves, Reba drums, Chemar offering boxes, and qingke barley liquor. The joy of local life was in full bloom. President Xi stressed, "I am so happy to witness the beautiful splendor and fresh vibrant atmosphere of the snowy plateau." "Over the past few years, vast changes have occurred in the lives and mindsets of people of all ethnic groups in Xizang. Everywhere I visit, I have felt that people have a sense of contentment and a sense of appreciation toward the Party and the country because their lives are continuing to improve."
President Xi's visit to the Duojiucang Tibetan Clothing Store on Barkhor Street remains fresh in the mind of its owner Dolma. "I was full of excitement and joy when I met President Xi. He amiably enquired about the various styles of clothing in my store. He was very attentive and asked about everything from the fabric materials to different styles, designs, combinations, and dress fashions."
Dolma, 45, opened her store 16 years ago. "Previously, most of our customers were locals, but now we are getting more and more people from out of town." When tourists visit the store, Dolma likes to explain which are winter clothes, which are summer clothes, and which are linings, so as to help customers understand the local history and culture behind the clothing. "Life keeps getting better, so I truly appreciate the good policies of the Party and the government," said Dolma.
All ethnic groups of the Chinese nation enjoy a happy life together.
In May 2021, the drama North Courtyard on Barkhor Street took the stage at the National Theater of China. The play vividly depicts the kinship and support that exists among people from all ethnic groups in Barkhor Street.
What makes Barkhor Street unique is the sight of traders from different ethnic backgrounds, each with their own distinctive accents, congregating here from all over the country to work side by side. Many people who come here for business fully immerse themselves in local life. Not only do they come to love butter tea and Tibetan noodles, but also develop close friendships with local people. "My friendships with Tibetan people are inseparable in the same way butter and tea are inseparable in the Tibetan drink," said Zhang Quanlu, who arrived in Barkhor Street from Chengdu to open a business over a decade ago.
Around Barkhor Street, there are more than 100 large and small courtyards with people of different ethnicities living together, almost like family. It is common for a Han person to ask her Tibetan neighbor if she needs anything before visiting the grocery store, or for an older Tibetan woman to help look after a neighbor's baby while she enjoys the sun.
Located at No. 11, Jiri Lane in Barkhor Street, Makang Compound is home to more than 60 families from various ethnic groups. Drakpa's family are from Maizhokunggar County, but have lived in the compound for more than 30 years. Each Spring Festival, his family makes Chemar, a symbol of abundant harvest, to give to their neighbors as gifts. Although compound residents have different habits, languages, and customs, they all help each other out and get along like brothers and sisters.
The various ethnic cultures of Barkhor Street add to each other's radiance and blend together in innovative ways that help keep this 1,000-year-old street brimming with vitality.
(Originally appeared in Qiushi Journal, Chinese edition, No. 11-12, 2022)
Source: English Edition of Qiushi Journal,No.4, 2022